If you cannot make the  posted times below,
​please call for other options that may be available!   

719.590.6500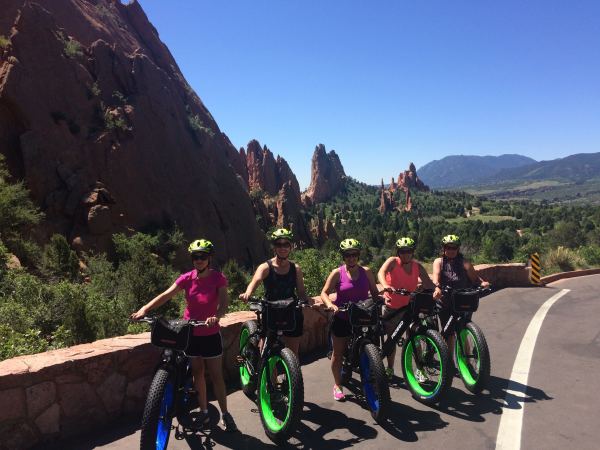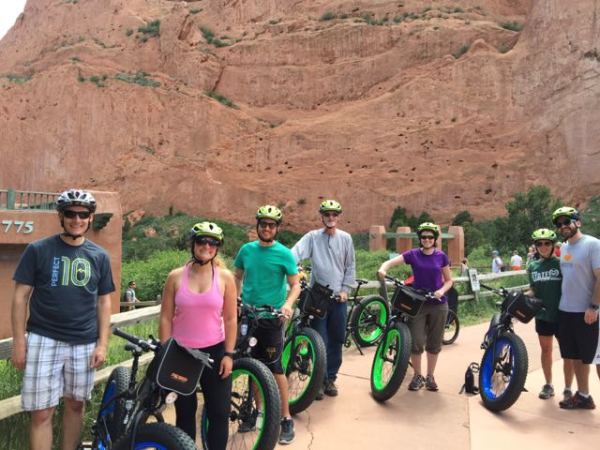 This leisurely guided tour is designed for all levels of riders and will give you a good overview of the main areas of Garden of the Gods Park. Leaving from our store it is a short ride to the park, and then we do a full circuit of the two main paved loops of the Garden. Your guide will make a few stops for you to grab some breathtaking pictures of the unique rock formations, and to tell you some interesting lore about the area - which may surprise you! You'll be riding one of our comfortable and easy-to-use electric bikes, which virtually eliminates the biggest challenges for visitors wanting an outdoor experience in the Garden: hills, wind, and elevation – all become easily conquered by our amazing ebikes! Oh, did we mention how fun the riding is? Smiles are Guaranteed!

If you're looking for a little more adventure that will show more of the Garden, and give you a chance to try a little off-pavement single-track mountain biking, then this guided tour is for you! In addition to covering the 2 main paved loops, we'll take you into the mountain bike section of the park where you 'll get to see just how awesome our fat tire bikes can be off road! You'll breeze up the trails under electric assist, and capture a view of the park that most visitors never see. Plus we'll take you to another hidden spot with spectacular rock formations, giving you incredible photo ops so you can show off how awesome you are on your fat-tire bike! Like all our tours – Smiles are Guaranteed - these ones may be just a little bit bigger!


Duration - 2 hours
Difficulty - Easy
Length    - 9 miles
Bike Options: Fat Tire, Cruiser, City

Public Tours
Price - $59
Departure Time - Typically M, W, F 9:30am

(Please check Book Now calendar as this may vary)


Private Tours
Price - $79 (min 2 people)
Sched - Daylight hours, subject to
              availability

Duration - 2.5 hours
Difficulty - Easy/Intermediate (some off-pavement)
Length    - 12 miles
Bike Options: Fat Tire

Public Tours
Price - $79
Departure Time - Typically Tu, Th, Sat 9:30am
(Please check Book Now calendar as this may vary)               

Private Tours
Price - $99 (min 2 people)
Sched - Daylight hours, subject to availability