Perfect Day Package - Perkin's Challenge
- Package Cost: $43 per person (all inclusive)
- Ages: 6 and up
- Group Size: 2-6 per team, multiple teams may participate
- Adventure Duration: 90-120 Minutes (see description below)
- Location: Starts at Garden of the Gods Visitor Center
What is the
Perkin's Adventure Challenge?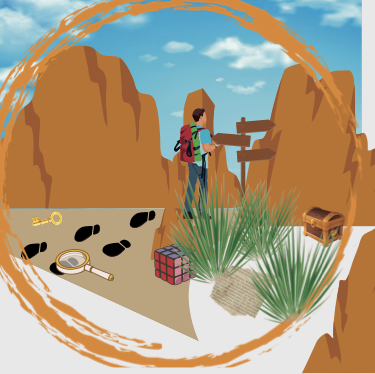 These unique adventures are similar to an Escape Room and Treasure Hunt rolled into one - except it's outdoors!
Specially designed with both children and adults in mind, the Perkin's Challenge Edition is just the right duration and difficulty to keep things moving for all ages. Your group (team) of 2 to 6 will compete against other teams at the same time (and/or the clock) by completing a series of approximately 6 "challenges" that take you throughout the center of the Park.

You will be performing unusal activities, and solving clues and puzzles while you have fun sightseeing and exploring Garden of the Gods Park. At the starting line your team will receive an Adventure Backpack that has various items you will need along the way. Our Adventure Guide will be there to get everyone started and to help (if needed) during your Adventure.
The team with the fastest time and/or the team with the highest score will win the Challenge and claim their fame! Whether doing it just for fun, or for the challenge of friendly competition, this Adventure takes interactive experience to a whole new level!
What our guests are saying about the Adventure Challenge:

"Challenges were something the whole family could enjoy!" Kelsey
"Loved the hands-on aspect of the challenges." - Dan
"Got to see the views along the way and they were spectacular. Challenges were fun and getting to see the park as well was unanticipated." D. K.
"Fun! .... Very interactive!" - Grayson
Book Now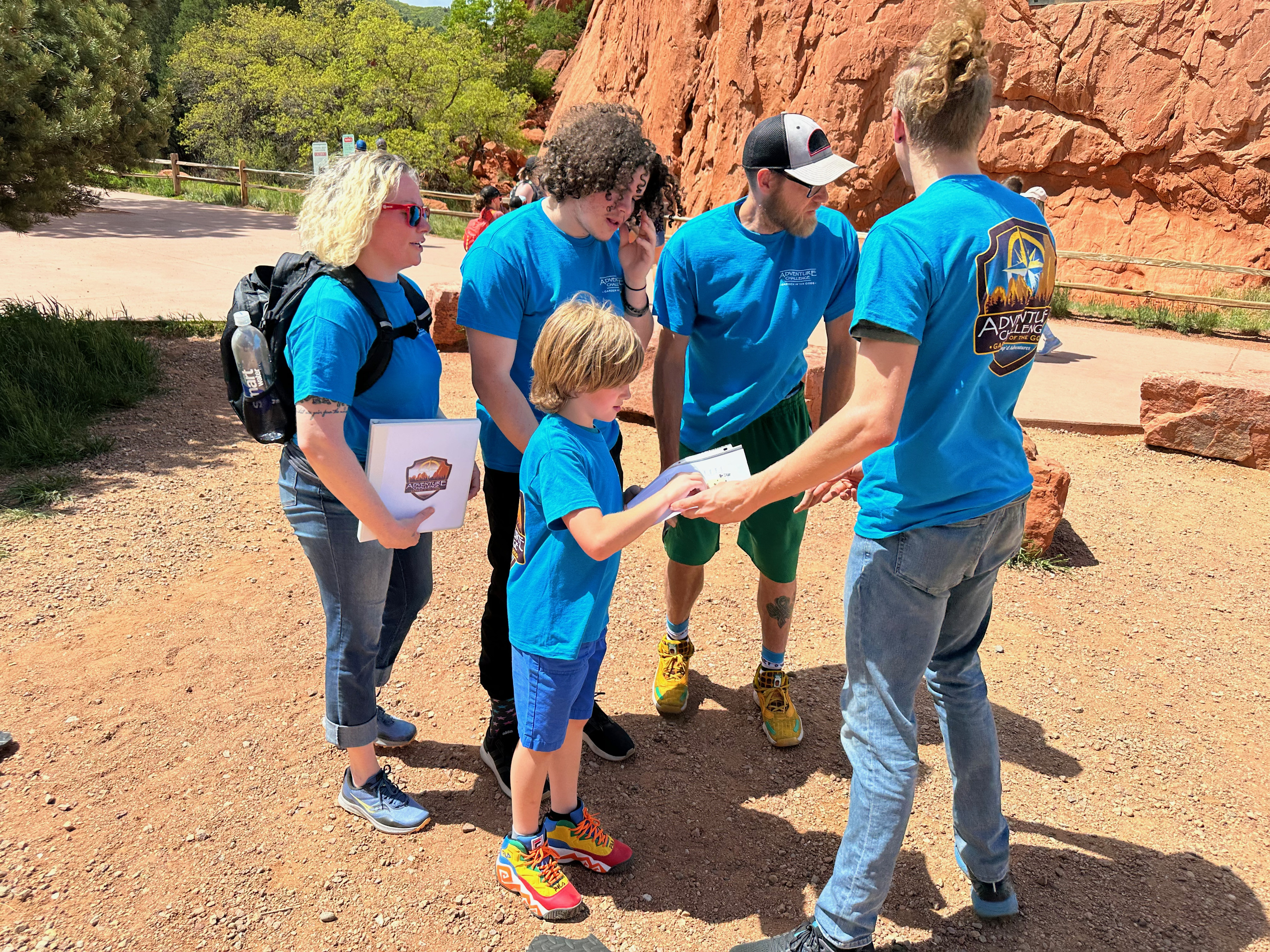 Your all-inclusive Package includes:
- Perkin's Adventure Challenge in Garden of the Gods Park
- Geotrekker Movie Experience Ticket (runs every 20 minutes)
- Box Lunch at the Gateway Cafe (your choice of sandwich - see Additional Info below)
- Optional: Awesome team shirts (printed 2 sides) may be added while booking for only $15 each ($10 off) !
Additional Information
- Packages are available to book until 4pm the day before the activity date.
- Lunches are available for pickup by 10:00 am (MT) on the day of the Adventure.
Lunch Options :
(* Each lunch includes chips, cookie, and water.)
#1 – Roasted Turkey & Provolone Sandwich with Pesto Mayo
#2 – Italian Grinder with Pepperoni, Salami & Provolone Sandwich with Tapenade
#3 – Veggie Sandwich with Hummus, Cucumber, Lettuce & Tomato with Pesto
#4 – Honey Cured Ham & Cheddar Sandwich
#5 – Sunflower Butter & Strawberry Jam Sandwich

*All sandwiches are on Multigrain or optional Gluten-Free Bread
Book Now